Rabbie The Clown - Children's Party Entertainer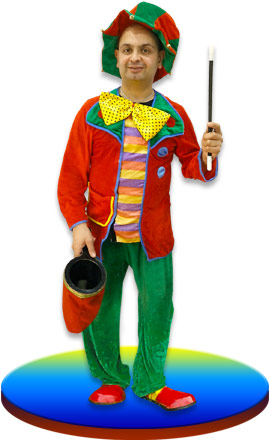 Have Rabbie The Clown arrive at your very own party or event in his colourful, whacky and unmissable outfit; big comical Shoes, Bowtie and funny, Clown walk
Children just love Rabbie The Clown party entertainer, he has proved to be a hit-success at hundreds of parties across London and beyond; bringing memorable laugher, excitement and many happy little faces.
| | | | | |
| --- | --- | --- | --- | --- |
| " | | Absolutely spectacular entertainment, the kids were completely engrossed | | " |
Rabbie The Clown joyfully greets the children & parents with introductory razzmatazz and fanfare, accompanied by his famous Party Box of tricks and silliness which, delivers successful entertainment – every time! He can also provide AMAZING Magic, Balloon Modelling and Face Painting services.
Children have compared him to the CBBC Children's Presenter, Mr Tumble and the world famous Mr Bean.

As the clown, I never paint my face so the children can see my expressions while do silly faces and impressions. I stay in character all the way through, with comic voice, until the very end: Waving to the kids, with a fond-farewell until next time.

I'm the hardest working Children's Entertainer in the country, and can do up to four hours work without a break (that includes mascot entertaining in between!). I take great pride at event event or party i attend and feel very privileged to help create such great memories for parents and their children on the most important days of their lives.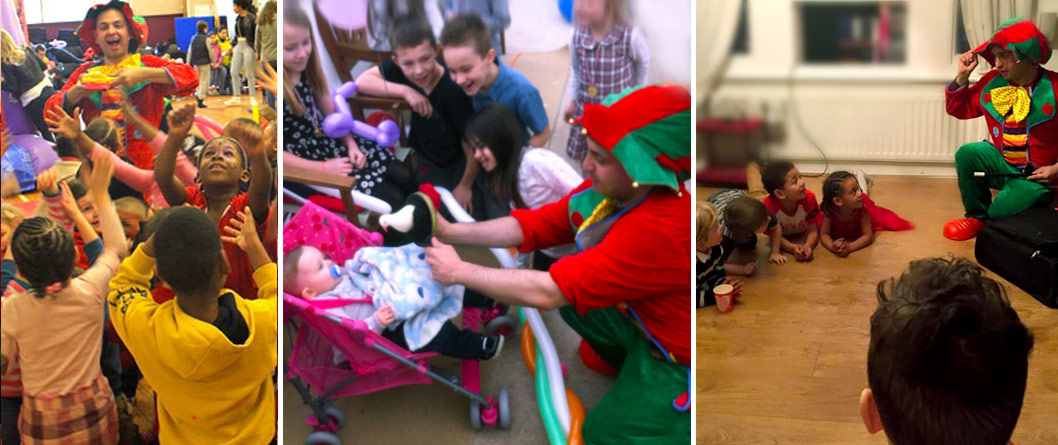 The party entertainment can be fully customisable or you can choose from one of the easy, money saving packages below



Balloon Modeller - like no other!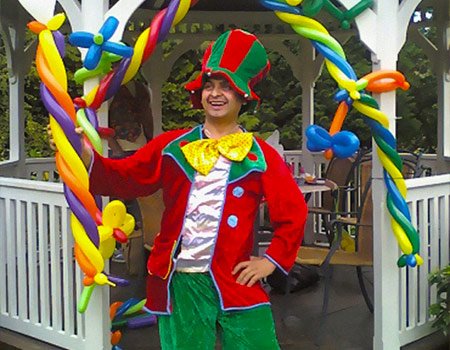 Whether you call me a Balloon Artist, Balloon Twister or Balloon Modeller it doesn't matter. I am known in these parts as the 'Billy The Kid' of Balloon Modelling - the fastest in the country! I can create 100-200 balloons per hour –

get Gunnies Book on the phone!
This is great for you and your party guests, no child (or parent) goes without a balloon request! I can twist a balloon into a shape in as little as 2 seconds, catering to vast numbers of guest. Moreover, with a little patience, I can build wondrous creations to impress and cater to the hard to please.

Children love watching the modelling progress and joining in with my silly commentary. The balloon models also make a wonderful party toy and memorable gift for the children to take home. I can create balloon dogs, flowers, hats, ray guns, swords, giraffes, hearts, teddy bears, GIANT MAGIC HEART WANDS, and even a palm trees with bananas with a monkey on it - but that takes five minutes to do and there's rarely the time to do that for everyone!
| | | | | |
| --- | --- | --- | --- | --- |
| " | | Thank you so much for making our daughter's birthday so special | | " |
I have an impressive colourful costume, perfect for entertaining at children's parties and family fun or public events. As well as being a Balloon Modeller, I am an experienced Party Entertainer who brings an extra-fun and playful element to any event!

I buy up to 10,000 balloons a year, wholesale, so I have plenty to pass around should any of your guests fancy a go. I also bring along a few extra Balloons Pumps, if anything goes missing or breaks occur, I don't charge any extra as I want the kids to be occupied as much as possible and to have FUN!
The party entertainment can be fully customisable or you can choose from one of the easy, money saving packages below



Party Magician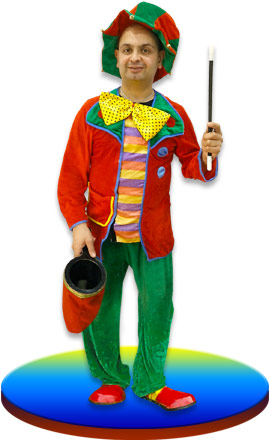 As a children's Party Magician I have mastered the art of funny and entertaining magic for children aged 2-10. Using large, colourful tricks, I personalise each magic act depending on the birthday child and the age range of children. Magic acts can be themed to popular characters.
I have a Magic Wand that shoots confetti above all the children's heads and my greatest trick is to take an 8FT MAGIC WAND OUT OF MY HAT! It's no surprise why I am the greatest children's entertainer in the land, it's because I care enough to dazzle EVERYONE!
| | | | | |
| --- | --- | --- | --- | --- |
| " | | Scarlett was thrilled with the magic... Scarlett said her favourite part of her party was "Rabbie" | | " |
The party entertainment can be fully customisable or you can choose from one of the easy, money saving packages below



Face Painting
Being the fastest face painter in the country - I have a super-special method which is applied in under 30 seconds! I can create Sharks, Lions, Spiders, Butterflies and more. I also have stick-on, dazzling, HEART-SHAPED DIAMONDS and glitter for the Butterfly designs - which always is a huge hit with the children - and the grown ups to!
I don't use brushes and i can even paint children while they are eating (Avoiding any potential ques)!
My paints are washable and child-friendly
Give me a quick call
and I will share with you my revolutionary, face painting method. It will absolutely dazzle and it has been praise by countless parents, schools, party organisers and 1,000s of delighted children to!
| | | | | |
| --- | --- | --- | --- | --- |
| " | | he was very fast in doing the face painting and did not mind doing it to the adults as well | | " |
The party entertainment can be fully customisable or you can choose from one of the easy, money saving packages below