Rabbie The Clown - Children's Party Entertainer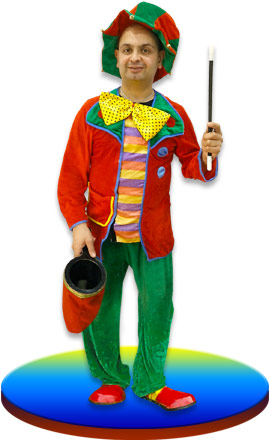 The most fun and colourful clown in town, with his technicolour and unmissable outfit, big comical shoes, whacky bowtie and silly clown walk. Rabbie The Clown is the walking-talking, life and soul of party entertainment, bring people together and making good parties into, laugh-out-loud, memorable ones!
Rabbie The Clown delights children with his visual comedy that everyone can enjoy. Accompanied by his famous party Box of Tricks & Silliness which if full of interactive props, balloons, face paint, bubbles and dazzling magic!

Children just love Rabbie The Clown party entertainer, he has proved to be a hit-success at hundreds of parties across London and beyond; bringing laugher, excitement and many happy little faces.
Event: Birthday Party
"All the kids loved you"
"Rabbie, I would just like to thank you so much for making my son's first birthday party (13/02/16) so much fun 😊🎈🎉 All the kids loved you & there were a lot of different aged children to entertain 👍😊 You were fantastic, funny & kept the children entertained through out the whole time you were there. Everyone thought you were great 😃 Would definitely recommend you & would book you again. Good communication & on time.great service. Thank you again 😊👍🎈🎈🎉 Donna"

"I'm the hardest working Children's Entertainer in the country, and can do up to four hours work without a break (that includes mascot entertaining in between!). I take great pride at event or party I attend and feel very privileged to help create such great memories for parents and their children on the most important days of their lives."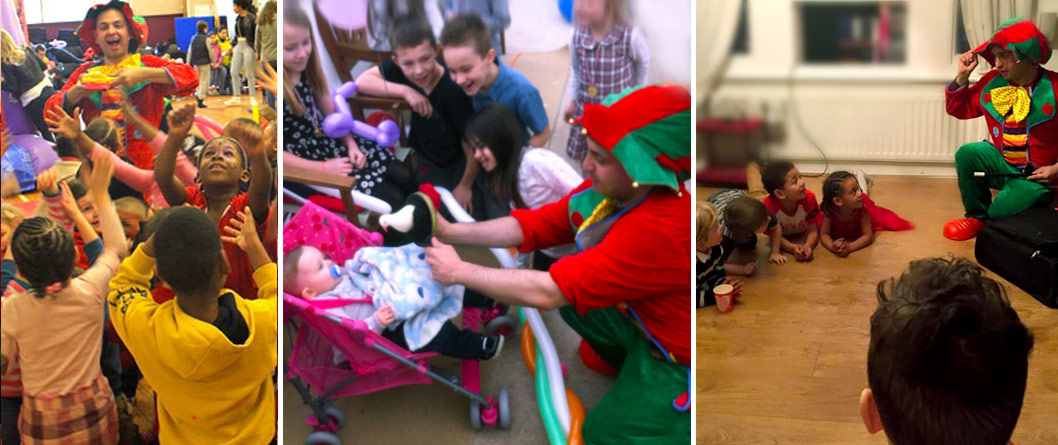 The party entertainment can be fully customisable or you can choose from one of the easy, money saving packages below.


Balloon Modeller - like no other!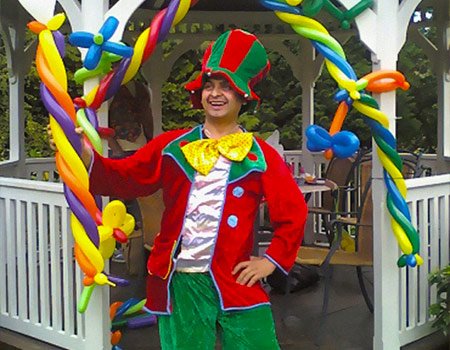 Whether you call it a Balloon Artist, Balloon Twister or a Balloon Modeller, it holds no sway for Rabbie. In these parts he is known as the 'Billy the Kid of Balloons' - the fastest in the West! Able to create 100-200 balloon creations per hour – get Gunnies Book on the phone!
This is great for you and your party guests, no child (or parent) goes without a balloon request! I can twist a balloon into a shape in as little as 2 seconds, catering to a vast number of guests with ease. Moreover, with a little patience, I can build wondrous creations to impress and cater to the hard to please.

Children love watching the modelling progress and joining in with my silly commentary. The balloon models also make a wonderful party toy and memorable gift for the children to take home. I can create balloon dogs, flowers, hats, ray guns, swords, giraffes, hearts, teddy bears, GIANT MAGIC HEART WANDS, and even a palm trees with bananas and a hanging monkey on it - but that takes five minutes to do and there is rarely the time to do that for everyone!
Event: Birthday Party
"You are indeed the best!"
"I wanted to say a huge thank you for everything you and Adam did to make my son Ellis' party the huge success that it was. Everyone had an amazing time, thanks to you. We were all so impressed with your talents and abilities in keeping all the children amused and happy – with nearly 50 of them, this was a herculean task in itself. Thank you once again. You are indeed the best! With my thanks once again."

"I have an impressive colourful costume, perfect for entertaining at children's parties and family fun or public events. As well as being a Balloon Modeller, I am an experienced party entertainer, who brings an extra-fun and playful element to any event!

I buy up to 10,000 balloons a year wholesale, so I have plenty to pass around should any of your guests fancy a go. I also bring along a few extra balloons pumps."
The party entertainment can be fully customisable or you can choose from one of the easy, money saving packages below.


Party Magician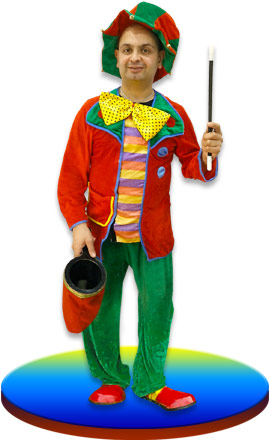 As a children's Party Magician I have mastered the art of funny and entertaining magic for children aged 2-10 using large, colourful magic tricks. My magic act is very interactive and I can personalise it depending on the birthday child and the age range of children, I can also theme it to popular characters!
I have lots of amazing magic tricks including a magic wand that shoots confetti above all the children's heads and one where I take an 8FT MAGIC WAND OUT OF MY HAT!
Event: Birthday Party
"Scarlett was thrilled with the magic"
"Thanks again for your entertainment yesterday...Scarlett was thrilled with the magic and everybody enjoyed the balloons and tattoos. The best bit is that Scarlett said her favourite part of her party was "Rabbie""
The party entertainment can be fully customisable or you can choose from one of the easy, money saving packages below.


Face Painting
No long ques for Face Painting at parties anymore! Being the fastest Face Painter in the country - I have a super-special method which is applied in under 30 seconds!!! I can create Sharks, Lions, Spiders, Butterflies and more. I also have stick-on, dazzling, HEART-SHAPED DIAMONDS and glitter for the Butterfly designs - which always is a huge hit with the children - and the grownups to!
br>
I don't use brushes and i can even paint children while they are eating (avoiding any potential ques)!
My paints are washable and child-friendly.
br>
Give me a quick call
and I will share with you my revolutionary, face painting method. It will absolutely dazzle and it has been praise by countless parents, schools, party organisers and 1,000s of delighted children to!
Event: Birthday Party
"he was very fast in doing the face painting and did not mind doing it to the adults as well"
"Rabbie is One of the Best entertainer in Town , He arrived on time and stayed beyond the agreed timings by his own will as Children were having so much Fun . He made children laugh and engaged him in all the activities , be it magic , balloon modelling or plate spinning .. My birthday Girl was very happy having him around and he made the party so colourful with his costume.. As soon as he entered he started talking to kids and made him laugh , He did not waste time in setting up his props and did it along having jokes with kids .. he did not need a lot of space for his things , he came dressed as describe and is indeed a pleasant gentleman .. even Adults were enjoying his funny jokes and one liners .. the age range for the party was 2- 10 yrs old , he was very fast in doing the face painting and did not mind doing it to the adults as well .. everyone enjoyed his company and and He was the Star of the day .. I can't recommend him enough"
The party entertainment can be fully customisable or you can choose from one of the easy, money saving packages below.


Frequently Asked Questions
Do you cover
Yes, as a children's party magician, clown and mascots entertainer, I cover not just Greater London, I cover Surrey Kent, Herts Luton, Milton Keynes, Beds, Bedfordshire, Slough, Berkshire, Staines, Windsor, Maidenhead, Brighton, Grays. So when searching for what I do with the words 'near me', remember I do cover your area :)
What age ranges do
As a professional children's entertainer, with 1500+ kids parties experiences, I have provided entertainment for children ages 1 to 10 years old. Get in touch with me now, and after a few quick questions, I can go through which birthday party entertainment will be suitable for the age range of kids you have invited, whether its dancing, mascots, children's magician, face painting, bubbles, or superhero and princess related entertainment. I have also provided entertainment for 100s of one year old birthday parties, which include 20-40 children of various ages.
How many kids can
I have entertained at birthday parties for two kids, to school events with 250 children. Whether you are seeking a balloon modeller/balloonist, face painter, children's magician or clown and mascots, I will go through all your options to fit the amount of kids, party space, and age range of kids.
Are you DBS checked for children's birthday
I have a recent DBS check, and have worked for many schools, nurseries, pre schools, councils, housing associations, the police, charities and hospitals, which all required a DBS check by law. More info
Do you have insurance for your
Yes, as well as insurance, I have a risk assessment, and copies available on request. I have worked for numerous companies, schools, and other organisations that require it. More info .
Are you an agency or
I am a children's party entertainer that you speak to and hire directly, making it easier, safer and giving you more confidence for your special day. I have agencies hire me for their clients, where I always make a point to speaking to the parents directly, to provide them with assurances of a some personal contact with the entertainer and the type of services I will be providing.
How far in advance to
Usually, I get booked on average a few weeks to a few months in advance. Some weeks, I may have the odd space available for a booking one week or two before the party, especially on weekends as it's peak time. For Christmas Day, I have been booked a year in advance to entertain, but I have had calls on the day of the party by parents when they've just decided to book someone. Ideally, call me before you book the venue or send the invites, as there is only one of me, and I get booked months in advance usually.
Do you take requests or change entertainment to suite
I always adapt to your needs, as every party is special and unique. I have done parties for two kids to hundreds of kids. Some themes include superheroes, princesses, pirates, jungle, animals, or the latest children's movie or tv show. I tailor my magic tricks to include your child's favourite characters. And can bring complementary mascots to suite your party theme/requests. That's why I have a high success rate, as I give parents what they want for your child's birthday party theme.
Do I need to provide anything for
No, I adapt to all spaces whether it's in a hall, home, restaurant or back garden I can work around you. I provide all the entertainment kit! Plus I have over 50,000 stickers for the children, of all their favourite characters, free mascots too, magic show, balloons, bubbles, painting, and more! WOW!
Why don't you have a
As the clown, I never paint my face so the children can see my expressions while do silly faces and impressions. A painted clown face can be upseting or confusing for smaller childern.
Send Rabbie an online message